From 1 december 2022 to 1 January 2023, Nice will be putting on its festive costume of lights for the annual Christmas Village.

Place Masséna will once again become the home to craft chalets, an ice rink, entertainment, decoration and illumination, all in an atmosphere of wonder and innovation... Every day from 11:00 am to 08:00 pm, sixty chalets will make up the Christmas village, offering a wide range of craft work based mainly on Christmas products, including three specifically dedicated to Russian crafts.

Stroll around in a winter setting that sets the tone for the festivities, and explore the enchanted forest of 750 pine trees around which the many entertainments organised by Nice Council will take place, many of which will be centred on Russian folklore: there'll be a show and a concert every day, Father Christmas of course, and the Christmas/New Year concert... For the children there'll be a fun area, with a big wheel and fairground rides. At the centre of the forum, there'll be a large ice rink for the experienced and the beginners, with four 90-minute sessions every day.

Christmas in Nice is an opportunity to come and celebrate Christmas and New Year in Nice and enjoy the mild climate and winter sunshine! Situated at the heart of one of the most visited and outstanding natural environments in the world, Nice, Capital of the French Riviera, offers up a wealth of diversity. Between the sea and the mountains, it cultivates the unspoilt charm of a Mediterranean city and offers a vast range of activities and visits. So take a stroll and explore the "Baie des Anges", the bustling city centre, the pedestrian and shopping streets, the old town with its typical narrow streets, the colourful markets and little craft shops.

Welcome to Nice!
Nette Menschen treffen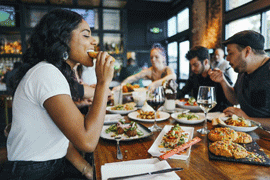 Wenn Sie in diesem Jahr faszinierende neue Freunde kennen lernen möchten, dann empfehlen wir die Kontaktschmiede des Frühstückstreffs. Sie werden staunen, was die Redaktion von weihnachtsmarkt-deutschland.de zum Preis von Null Euro schon für Zehntausende Menschen in über 50 Städten in Europa tut. Dürfen wir Sie verblüffen? Klicken Sie jetzt einfach ...Anzeige ... weiter ...
Öffnungszeiten:
01.12. - 31.12.2022
01.01. - 01.01.2023
Standort:
Diese Seite selbst bearbeiten
Tourist-Information:
Office de Tourisme
5, Promenade des Anglais
06302 Nice
0892 707 407 fon
04 92 14 48 03 fax
www.nicetourisme.com